Partner with Gordon Bizar to Acquire a Large Wealth-Creating Business with You owning the lion's share
An opportunity to have Gordon Bizar as your partner to acquire the business of your choice.
GET RESULTS!
Click on Application Download
THE OPPORTUNITY
What if you have Gordon Bizar as your partner and his team of top business professionals to help you land your first company… or series of companies? Or, if you already own your own business… to personally help you acquire suitable targets for roll-up or expansion?
Couldn't you…
Build your wealth, power, and income beyond your capabilities as they exist today
Put yourself years, if not decades, ahead of going it alone
Put an end to trying to figure out how to do everything yourself
Enjoy the thrill of a shared victory
Dramatically shorten your learning curve
Reduce the likelihood of costly mistakes
Greatly reduce your stress and headaches
Control the acquired business to higher success with Gordon's support
Leverage yourself and your vision through the work and resources of Gordon's team and his other highly qualified partners
Know you're taking the best path
Benefit from personal coaching & mentoring by Gordon Bizar
Virtually eliminate any overwhelm, paralysis, confusion or frustration you may have experienced in the past to buy or build your business.
Gordon and his team will help you…
Target the right companies
Recruit and build your dream management team
Evaluate & price each acquisition
Negotiate the deals
Structure your acquisitions properly
Form new vehicles to be the legal buying entity(s)
Draft documents necessary for the governance of the buying entity(s)
Put all the financing together
Draft the mountain of documents and agreements these transactions require
Efficiently and effectively execute the closing
Acquire ownership and control of your competitors
Roll up other companies into the acquired business
Initiate Strategic Aggregation as a business model for annihilating the competition
Greatly reduce the time, headaches and steep learning curve normally required to complete these sophisticated strategies and tasks
Three ways people might see you… which would you choose for yourself?
Smartest person who ever lived
More knowledgeable than anyone else ever
Accomplished deeds that created great wealth and revolutionized humanity for the better
In life, your true measure is RESULTS! All one leaves behind is what they did. The highest enjoyments of life are in the doing it.
Rather than learn how to do everything necessary to buy a business… Get most everything you need to buy a business done hands-on with Gordon and his team!
PIBA is not about teaching people how to do everything needed to buy a business…
PIBA is about getting everything needed to buy a business done.
Special Note for C-Suite Executives
Benefits
Reignite your career in a tough job market
Create wealth versus just get a paycheck
Enjoy business owner tax advantages
Rise above company politics, come in at the top
Gain control over your financial security
Take control over your financial destiny
Gain control over your personal time
Shorten your learning curve
Shorten your execution time
Achieve a higher certainty of outcome
Develop a long-term business growth support relationship
Create your legacy, pass the business on to your children, or
Cash out with family wealth that perpetuates through generations yet unborn
Post Close Benefits
Since Gordon and his team own a percentage of the company, here are some added post-acquisition growth support capabilities of the team:
Marketing
Purchasing
Operating cost reduction
Tax reduction
Asset protection
Scaling for growth
Office automation & systemization
Implementation of Strategic Aggregation
QUALIFICATION
We're looking for the "right stuff." We admit into Partners in Business Acquisition those who best meet qualifications proven in the past to accomplish our mutually desired results. Also part of the qualification review is that applicants are seeking acquisition targets that meet minimum sales and EBITDA requirements.
Ideal Candidate Qualification (Missing one or two will not disqualify you)
Superior communication skills
Able to articulate your vision and motivate others to follow you
Passion for the target Industry
Experience building at least one successful business as

Owner, CEO, CFO, COO, growth specialist or consultant
Or, person in authority leading and coordinating the efforts of other professionals

Experience with both failure and success
Willingness to work with our team as a team
Clear vision of the result you seek or a specific business acquisition target
Motivated & ready to take action
Character

Integrity, tenacity, resourcefulness, loyalty, resilience

Time and effort commitment

Minimum 10 hours per week at the beginning
As much as it takes as we transition into the closing

Tacit Agreement to

Follow through on all assignments
Be the Driving Force for

Prospecting for sellers
Building cosmic bond with sellers
Quarterbacking appointments

Fully apply yourself to the achievement of mutually agreed upon goals

Technology literate
Sense of urgency
Satisfactory completion of the PIBA application process
Execution of the PIBA Partnering Agreement
Target Requirements
Minimum Annual Sales: $7,000,000
Minimum Annual EBITDA: $1,000,000
Exception to Sales and EBITDA Minimums
If Sales or EBITDA is below the minimum during the past 12 months

Great reason for the deficiency which can be quickly fixed by our PIBA applicant
Company is on a growth trajectory which will surpass the minimums within a year
Company is part of a rollup or consolidation which when taken together with the buying company and/or the other consolidation companies in the pipeline will equal or exceed 175% of the minimums
The PIBA applicant is part owner of the company and is buying out their partner(s) and annual sales are at least $5,000,000 and annual EBITDA is at least $700,000
Preference is given to applicants with target companies exceeding minimums by 200% or more.
APPLICATION PROCESS
The entire process takes about 10 business days from the day we receive your completed application.
Application processing (day 1), Preliminary Evaluation (days 2-3), Interview (day 4, 5 or 6), Final Evaluation (days 7-9), Acceptance (day 10).
Application processing (day 1), Preliminary Evaluation (days 2-3), Interview (day 4, 5 or 6), Final Evaluation (days 7-9), Acceptance (day 10).
Application
Download the Application
Complete the Application and submit it as an email attachment to PIBA@bizarfinancing.com
Go to the PIBA Application Deposit Payment Form and submit your $500 fully refundable deposit
Watch for your email receipt and confirmation that your application has been received (usually within 24 hours)
Preliminary Evaluation
Your application will be reviewed by Gordon and his team
If your application is not accepted, you will be notified by email and your deposit will be refunded to your credit card in-full usually within 5 business days of the receipt of your application and deposit
Interview
If your application is accepted, an appointment date and time will be set for your online personal interview with Gordon Bizar via GoToMeeting. Interviews typically last about 45 minutes.
You will receive email confirmation of your meeting directly from GoToMeeting as well as a reminder email from GoToMeeting the day before and an hour before your scheduled meeting time. The reminders will contain your meeting access link
The allotted time is very short given the questions we will each have for each other. So, it is important that you be on time for your meeting
During your interview with Gordon, you will be asked to further explain some of the answers on your Application as well as answer other questions giving Gordon insight into your qualifications
Part of the interview will be devoted to determining the appropriate acquisition size for your target company
Your interview will be recorded so that it may be reviewed by Gordon's team and so that you may have a copy for your future reference
Choose between PIBA and PIBA Gold:
PIBA Gold is an upgraded version of PIBA
PIBA provides mentoring and business acquisition support, as described on this webpage
PIBA Gold is a Done-for-You Service. We execute the entire business acquisition process on your behalf
PIBA Gold assumes responsibility for initiating and completing the necessary tasks, subject to your approval
The differences between PIBA and PIBA Gold are clearly indicated on this webpage
Final Evaluation
Gordon and his team will conduct a series of evaluations culminating in a final decision on acceptance
In rare instances, Gordon has made a phone call prior to a final decision to gain clarity through additional discussions with the applicant
Acceptance
If your application is not accepted, you will be notified by email and your deposit will be refunded to your credit card in-full
If you notify us at any time during the application process prior to your acceptance that you want to withdraw your application, your deposit is refunded to your credit card in-full
If your application is accepted, your deposit will become non-refundable and applicable in-full to the Commitment Fee
Gordon typically places a phone call welcoming the new PIBA member and setting a day of the week and time of day for a weekly online meeting to be sure that progress is monitored and maintained
An email notice of acceptance is also sent
You will receive an invoice from PIBA for the balance of the Commitment Fee along with wire instructions for payment
Upon receipt of payment, your formal participation in PIBA begins
FEES AND EQUITY PARTICIPATION
The Commitment Fee is assessed according to the Revenue or EBITDA size of your target acquisition. If the EBITDA Size would produce a higher Commitment and Success Fees than would the Revenue Size, then the EBITDA Size is used to determine the Commitment Fee.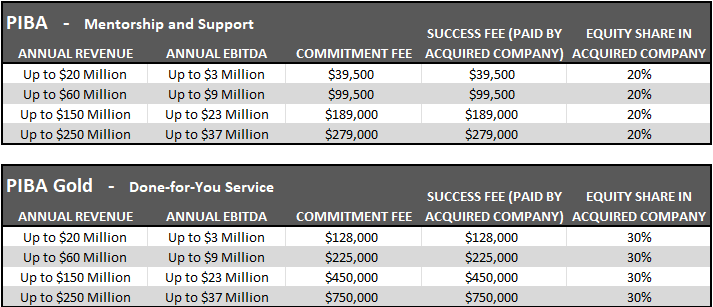 Often, surplus cash at or shortly after the close, is created as result of the structure and financing of the acquisition. That surplus cash is subject to distribution to the parties pro rata to their equity percentage.
Compensation to you from operations of the acquired business over and above an agreed upon base salary results in Consulting Fee compensation payable to Gordon and his designees in an amount pro rata to their ownership percentage of the business multiplied by amount of compensation to you over and above your base salary.
Reasons for Commitment Fee
Entrepreneurs instinctively want to conserve cash. So we are frequently asked if the Commitment Fee can be reduced, spread out over time, or waived. Respectfully we decline these requests. Experience has shown us that it has to be worthwhile for some extraordinarily successful people to give up other opportunities and put their time, talent, and resources behind you. Before investing in you, we need a demonstration of:
Your Commitment
Your Belief in Yourself
Your Values & Priorities
Your Resourcefulness
If you are not ready, willing, and able to invest in yourself, how can you ask others to invest 10's of thousands of dollars of their time & resources to put you in business?
We also incur out-of-pocket expenses of supporting your progress that must be covered. In PIBA, large expenses are referred to you for your approval and payment prior to incurring them (airline tickets, hotels etc.). Small or general expenses (phone calls, data charges, meals, local mileage etc.) we cover ourselves. In PIBA Gold, we handle all out-of-pocket expenses and are reimbursed only after the closing from the acquired company or from surplus capital raised.
Equity Participation
We make a commitment to provide you with a high level of personalized service, take the risk of success right along with you where our win is in our share of the equity split and cash distributions from the acquired company.
Equity Splits of the acquired company vary according the needs of each transaction and the resources required of Gordon and his team.  The default split for PIBA is 80% to you or your designees and 20% to Gordon or his designees. The default split for PIBA Gold is 70% to you or your designees and 30% to Gordon or his designees. There are situations which provide for a different split but they are rare and tend to occur with acquisitions of businesses in a field that Gordon is actively making acquisitions to build companies that he already owns. This would usually come to light and be addressed as a part of the application process.
In determining your desire for and your commitment to the acquisition of your company, it is advised that you give careful thought to the total cash outlays that may be required.
Typical Pre-Close Out-of-Pocket Expense for an Acquisition Based on Annual Sale Size
IMPORTANT CONSIDERATION: Some of our PIBA partners can handle these expense items with relative ease. For others, it may represent a great sacrifice. We are making you aware of these expense items in the table below so that you may consider them prior to submitting your Application and so you are prepared when they arise.
Many of these expenses can be negotiated lower, paid for all or in part out of the acquisition financing, paid for with equity in the buying entity in lieu of all or a portion of the fees, or covered by an investor. We recommend that you do not participate in PIBA unless you already have these funds available to you or you can see yourself handing them using one or more of these methods.
These expenses, to the extent they occur, are the responsibility of the applicant.
| Expense Item | Annual Sales of $10 Million | Annual Sales of $25 Million | Annual Sales of $50 Million | Annual Sales of $100 Million |
| --- | --- | --- | --- | --- |
| Appraisals (land, equip., inventory, etc.) | $6,000 | $8,500 | $17,500 | $35,000 |
| Quality of Earnings Report from CPA | $35,000 | $45,000 | $75,000 | $95,000 |
| Agreements by Attorney | $20,000 | $35,000 | $50,000 | $75,000 |
| Other | $10,000 | $20,000 | $30,000 | $50,000 |
| Total | $71,000 | $108,500 | $172,500 | $255,000 |
Upon a successful closing, the above expense items remaining owed to the various service providers and any other closing cost will be paid from the acquisition financing. To the maximum extent possible, any of these expenses advanced by the applicant prior to the close will be a priority for reimbursement either from the proceeds of the acquisition financing or from early positive cash flow developed from the acquired company.
This Partnering Agreement Also Provides That:
Neither Gordon Bizar, nor Bizar Financing, or National Diversified Funding Corporation is a cash investor
Gordon and his team will apply their best efforts toward the successful acquisition of your target company
All participating parties agree

To keep all matters and information pertaining to the acquisition confidential and not to circumvent each other
Not to undertake any action that would create any binding obligation or commitment of the other parties without that party's express written consent to do so
Not to represent to any third party in any manner that they have the authority to create any binding obligation or commitment of the other parties without that party's express written consent to do so
All intellectual property existing, modified, or newly developed relating to the acquisition or financing process is and shall be the sole property of National Diversified Funding Corporation

Without compensation to you

Bizar Financing may use your acquisition(s) as a case study for its training programs
You agree to provide a detailed written testimonial which Bizar Financing may publish
You agree to do a recorded audio and/or video interview with Gordon Bizar as part of a Bizar Financing training webinar discussing the challenges you faced, the solutions you used and the results you have achieved which may be published
You herewith grant to Bizar Financing the right to use your name and likeness
Participation in PIBA means that all parties are making a major commitment to themselves and each other to pursue a set of mutually agreed upon goals culminating in the successful acquisition of a substantial business. If you are ready to undertake these commitments, here is the link to the APPLICATION.
Submission of your Application and/or your payment of the Commitment Fee constitutes your agreement to the terms and conditions of PIBA or PIBA Gold participation as stated above.